Meal Planning Simplified Course
Regular price

Sale price

$67.00
Learn how to meal plan in minutes a week. 
You can learn how to meal plan in minutes, so you'll have a plan each day for what to cook for dinner. No more wasting time looking and wondering what to make. You'll have your plan and your mealtime stress will melt away. 
What You'll Learn…
1. How to come up with meal ideas so you're never stumped for what to cook.
2. How to get your family motivated to help you plan so you'll have more "Mom, this is a great dinner" and less "Do we have to eat this again?"
3. My quick and easy method for making your grocery list easily while you are planning your meals. 
4. A way to reuse your past meal plans to save you more time in the future. Don't throw away your hard work use it again to save you time. 
5. Plus lots of tips to help reduce food waste, save money on groceries, and universal recipes too. 
What You'll Receive…
1. After purchase you'll receive an email invitation to join the course platform. Just click the button, make enter your email and select a password. It's that easy. 
2. Inside the course platform, you'll find written and video lesson to teach you each step quickly. The entire course can be completed in just a weekend. Because I know you are busy. 
3. You'll also receive strategic printable to help you take action on what you are learning right away. So, as you are learning, you are setting up your meal planning system. Perfectly tailored to your family's needs. 
Frequently asked questions about Meal Planning Simplified?
How will I receive this product? It is a course on our course platform. You'll receive an email after purchase with instructions for accessing the course. 
How long does it take to complete the course? This course is self study, so you learn at your own pace. I've had some students complete the course in just a few hours working straight through. Other students easily complete it over a weekend working as they had time. It's up to you how quickly you move through the course. 
How long do I have access to the course? You'll have limited lifetime access. Which means you'll have access to the course for a full 12 months and beyond. For as long as I am selling the course. 
This is a digital course product. Nothing physical will ship to you.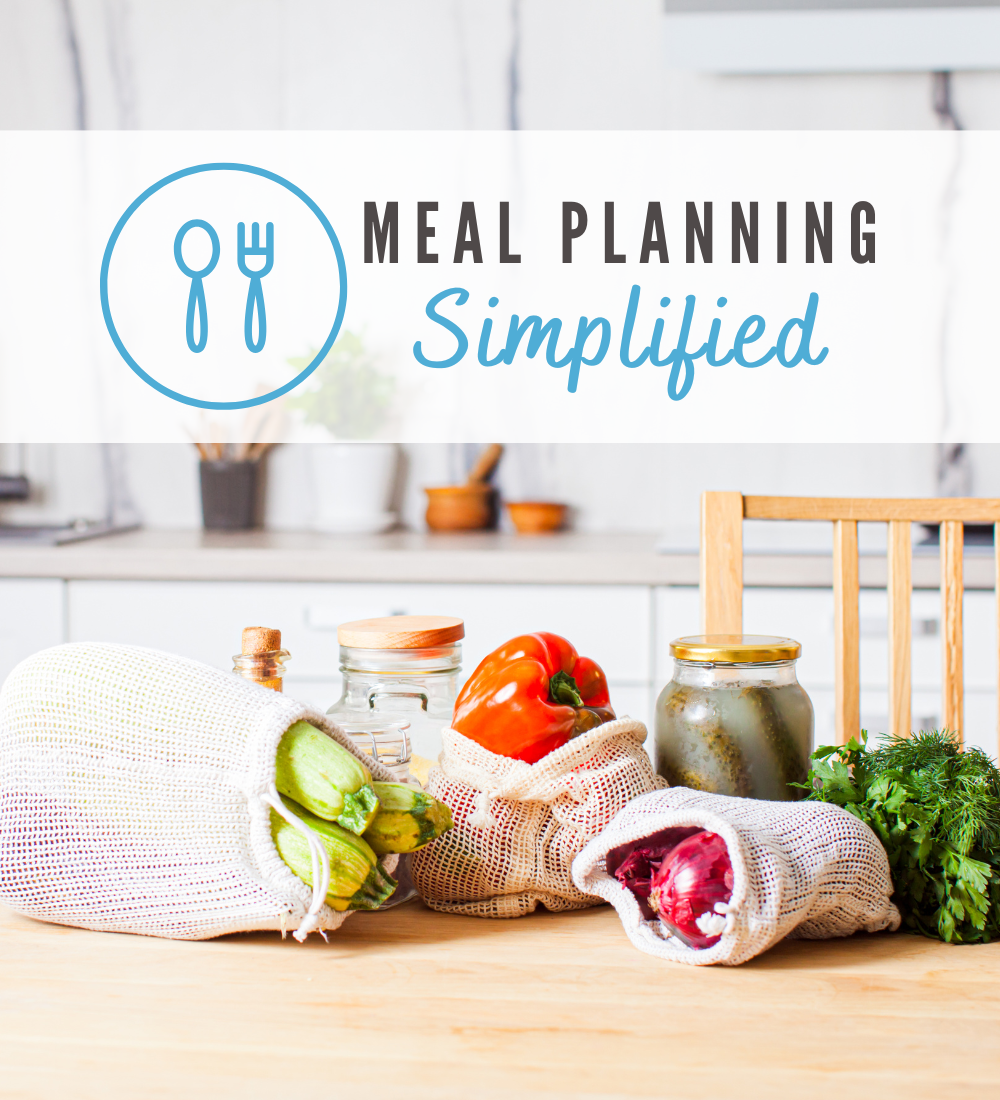 FAQ's
When Will I Get My Item?

Because this product is a digital product you'll receive it right after checkout.

There will be a download button right after checkout. You'll also receive an email with a download link also.
Downloading Tips

Computers and mobile devices vary greatly. And we are not able to offer you technical support. But we hope these download tips can help. 

Below are download instructions that I hope can help if you need help with your download.

Please note that most mobile devices such as phones and ipads, and tablets, do not allow for downloading through a link.  

So it's best to download to your computer and then use iCloud or Dropbox to transfer the item to your mobile device. 

Some products are sent using a compressed ZIP file and will need to be unzipped. 

 

After you download locate your file…

Locate Your File

Your file should download into your downloads folder. Look for it in your downloads folder. If it is not there you may have your computer set to place your downloads into another area of your computer in your files. Do a quick search in your files, by date or name of the product to locate it.

 

Tips for unzipping a file…

On a Computer or Laptop

After you download the zipped file to your computer, locate it. It will usually land in your downloads folder or where you have directed it to download to. 

After locating the file, right click and select the extract all option. If you are on a Mac, you might only have to double click the file to unzip it. 

This creates a new file on your computer which you can open. 

If you want to transfer the item to your mobile device you can add the opened file to iCloud or Dropbox and then they can be accessed on your mobile device. 

If you have problems with this process on one browser, try a different browser. App and other add ons can make certain browser react oddly. 

 On a Mobile Device

We recommend downloading the file to a computer and then transferring it to your mobile device but if you want to download a zipped file onto your mobile device, you may need a free app to unzip it. 

 Before downloading search in your app store for a free app to unzip files. This will allow you to unzip the folder to access it. 

 Another option that may work on some devices is to long hold on the file and then click open or extract. That may work for you too. 

 

All Files are in PDF Format...

 You will need a PDF reader to view the files and most computers and devices have Adobe Reader preinstalled on them. Making it easy to view. 

 But if your device doesn't have a pdf reader installed you will need one. Adobe Reader can be used an it's free. Get it here.