The Daily Minimalist Planner: Your Path to Streamlined Productivity
Regular price

$7.00

Sale price

$7.00
Are you a busy mom juggling multiple roles and responsibilities? Do you often find yourself overwhelmed by the demands of your day-to-day life?
I understand the challenges you face, which is why I designed the Daily Minimalist Planner specifically with you in mind. It's like having a personal assistant, cheerleader, and life coach all rolled into one!
This planner is more than just a daily organizer.
Picture this: Each day gets its own page dedicated just to you. Goals? Check. Tasks? Double check. 
The planner is your magical gateway to stay on track and slay your to-do list. And I've made sure there's plenty of room for you to doodle, unleash your creativity, and scribble down those brilliant "aha!" moments that pop up out of nowhere.
Here's what you'll find inside:
1. Daily Pages: Each day is given its own dedicated page, allowing you to focus on the tasks, goals, and priorities that matter most to you. Set your intentions, list your to-dos, and track your progress throughout the day. This carefully crafted layout ensures that you have ample space to jot down important notes, reminders, and ideas. It's your secret weapon against missed appointments and double bookings. No more frantic scrambling or awkward apologies – just smooth sailing through your jam-packed day.
2. Notes Pages: I know how crucial it is to capture your thoughts and ideas as they come. These little darlings are your ticket to capturing all those genius ideas, random thoughts, and hilarious mom moments. Whether it's a genius recipe idea for the next family gathering or a funny quote from your little one, these pages are your dedicated space to spill the beans and let your creativity run wild.
3. Month at a Glance: Gain a holistic view of your entire month with our month at a glance sheet. With a single glance, you can conquer the chaos of your entire month. Birthdays, anniversaries, and soccer practices – they'll all be laid out in front of you like a glorious rainbow of organized awesomeness.
4. Week at a Glance: Get an overview of your entire week with the week at a glance sheet. This invaluable resource reveals your weekly commitments and priorities in a single sweep. Say goodbye to missed deadlines and hello to productivity ninja status.
And guess what? You've got options!
You Get Two Versions: Printable Version and the Edit then Print Version
I understand that everyone has different preferences when it comes to organizing their lives. That's why I offer both a print version and an edit then print version. 
You don't have to choose, you get both.  So you can enjoy the flexibility to customize your planner according to your unique needs.
The Daily Minimalist Planner is not just a tool; it's a supportive companion on your journey to finding balance and purpose in your life. 
Harness the power of the Daily Minimalist Planner and reclaim control over your life. It's time to slay those goals, create memories, and embrace the joy that motherhood brings.
Grab your Daily Minimalist Planner today and join the tribe of fierce, fabulous, and organized moms who are conquering the chaos of their day with style.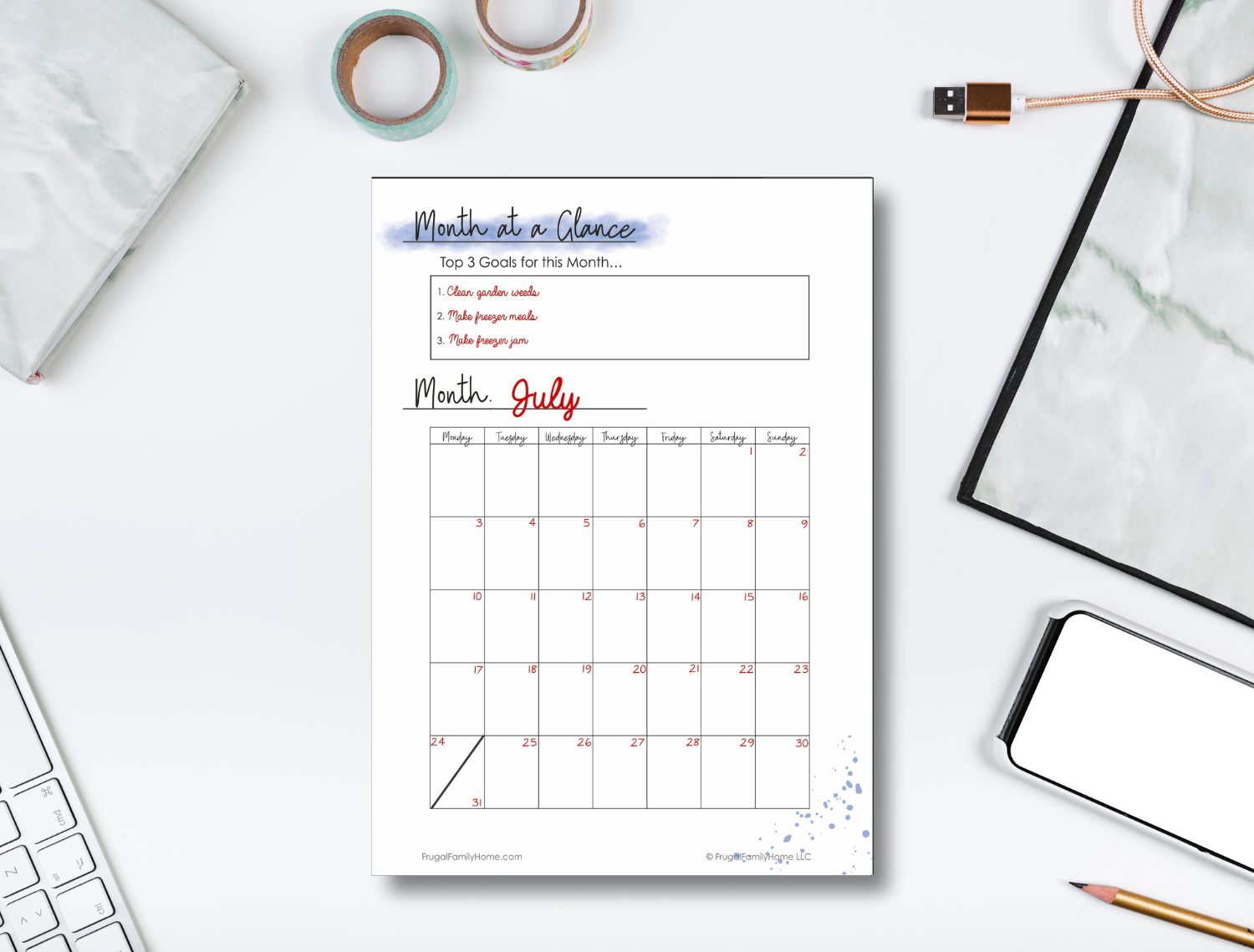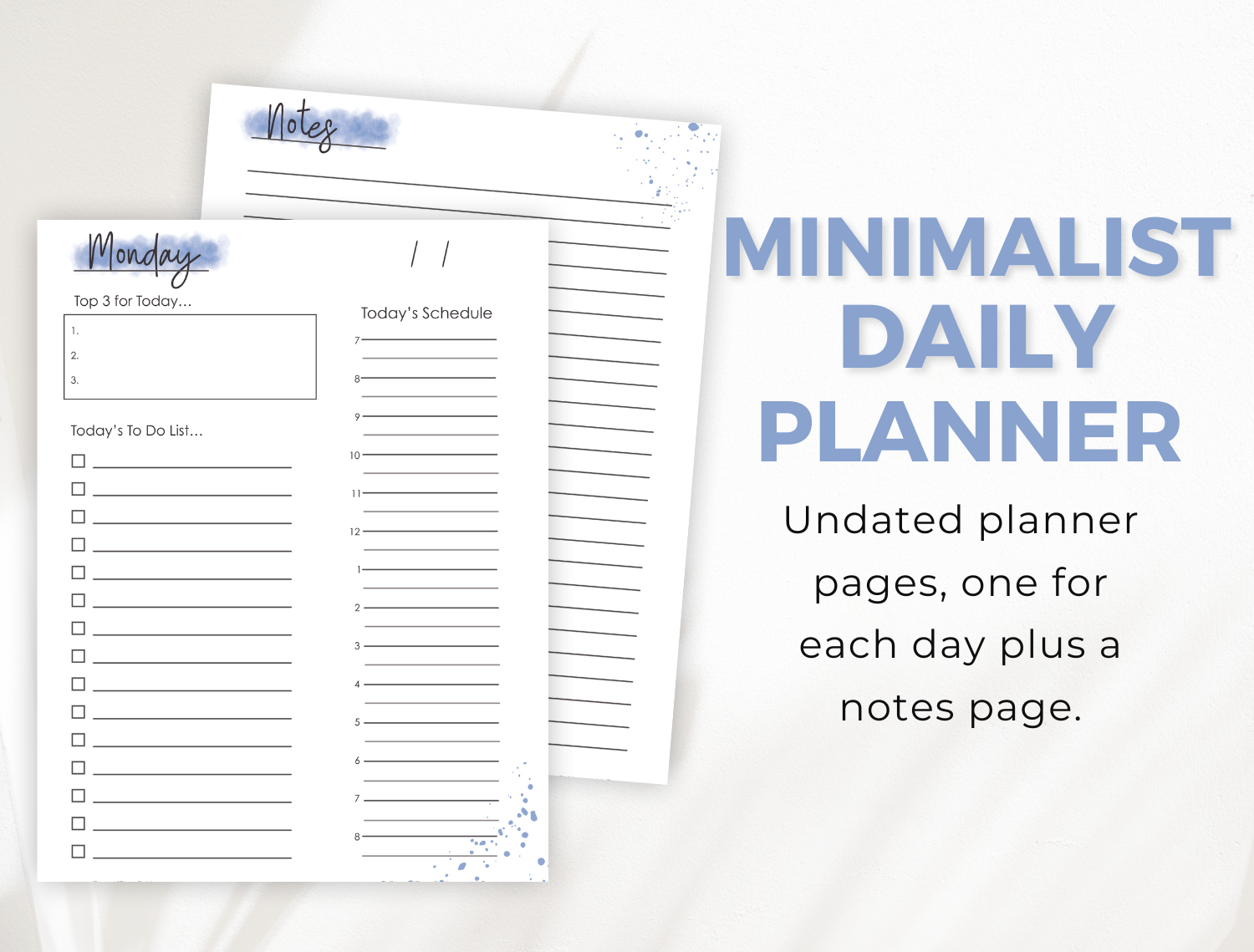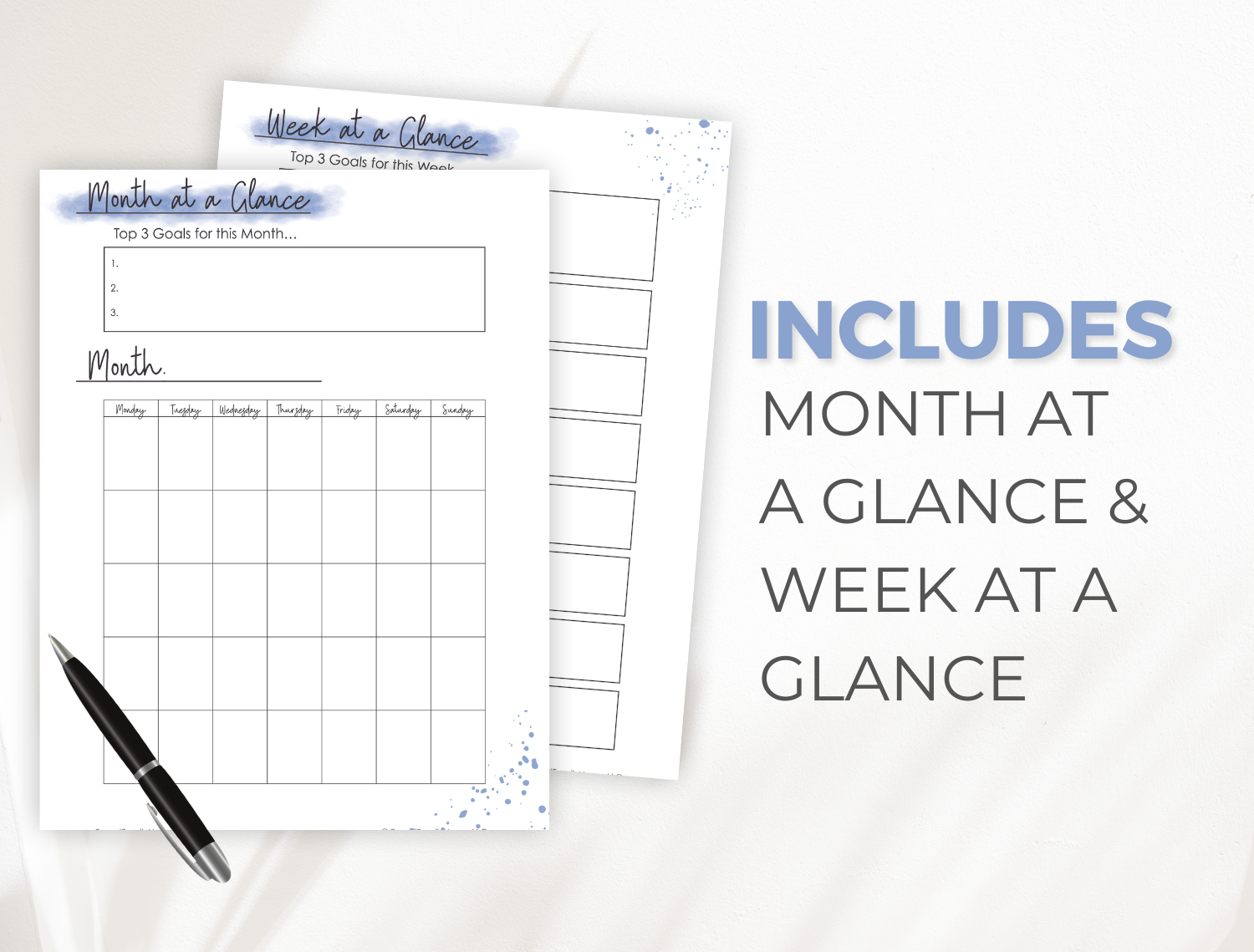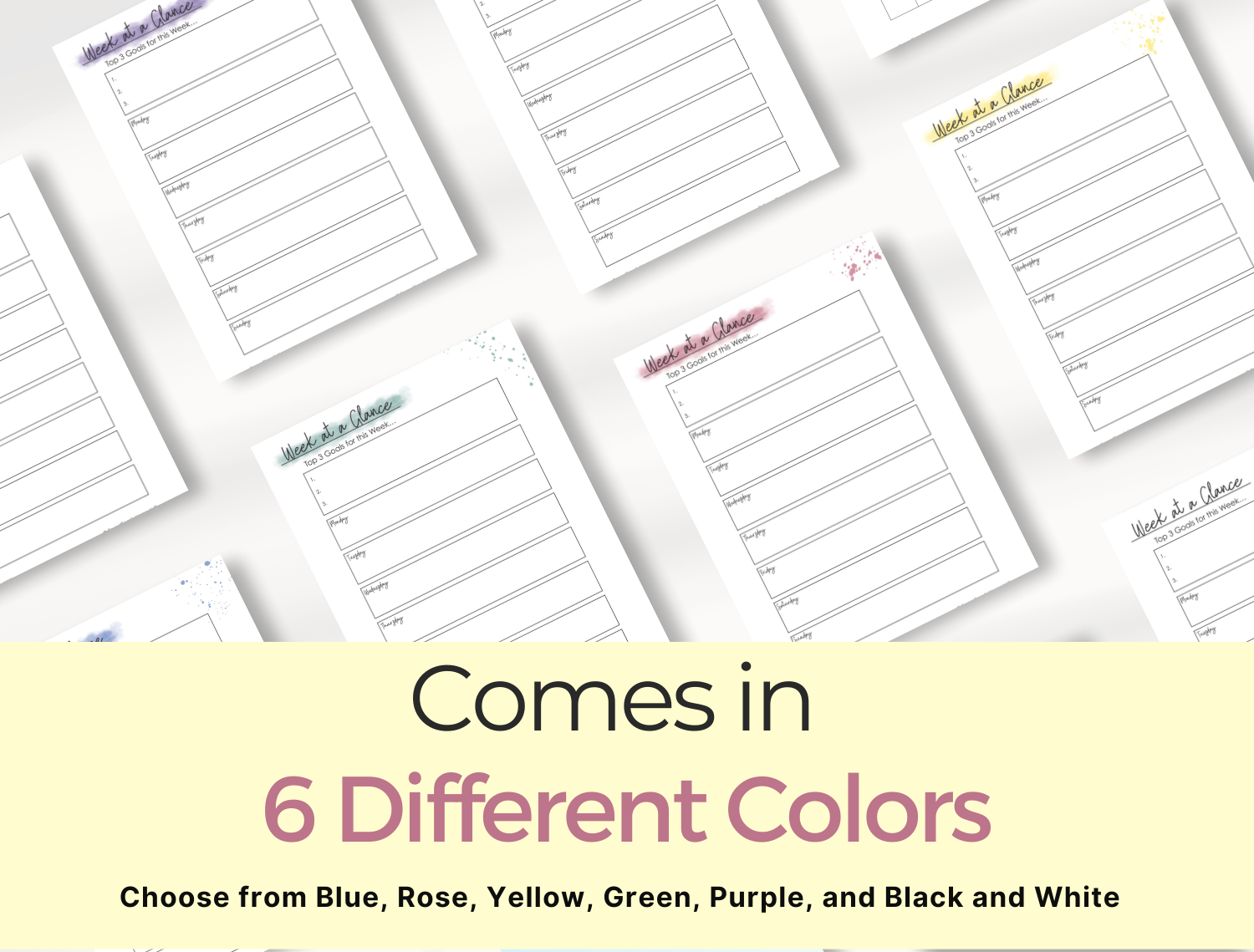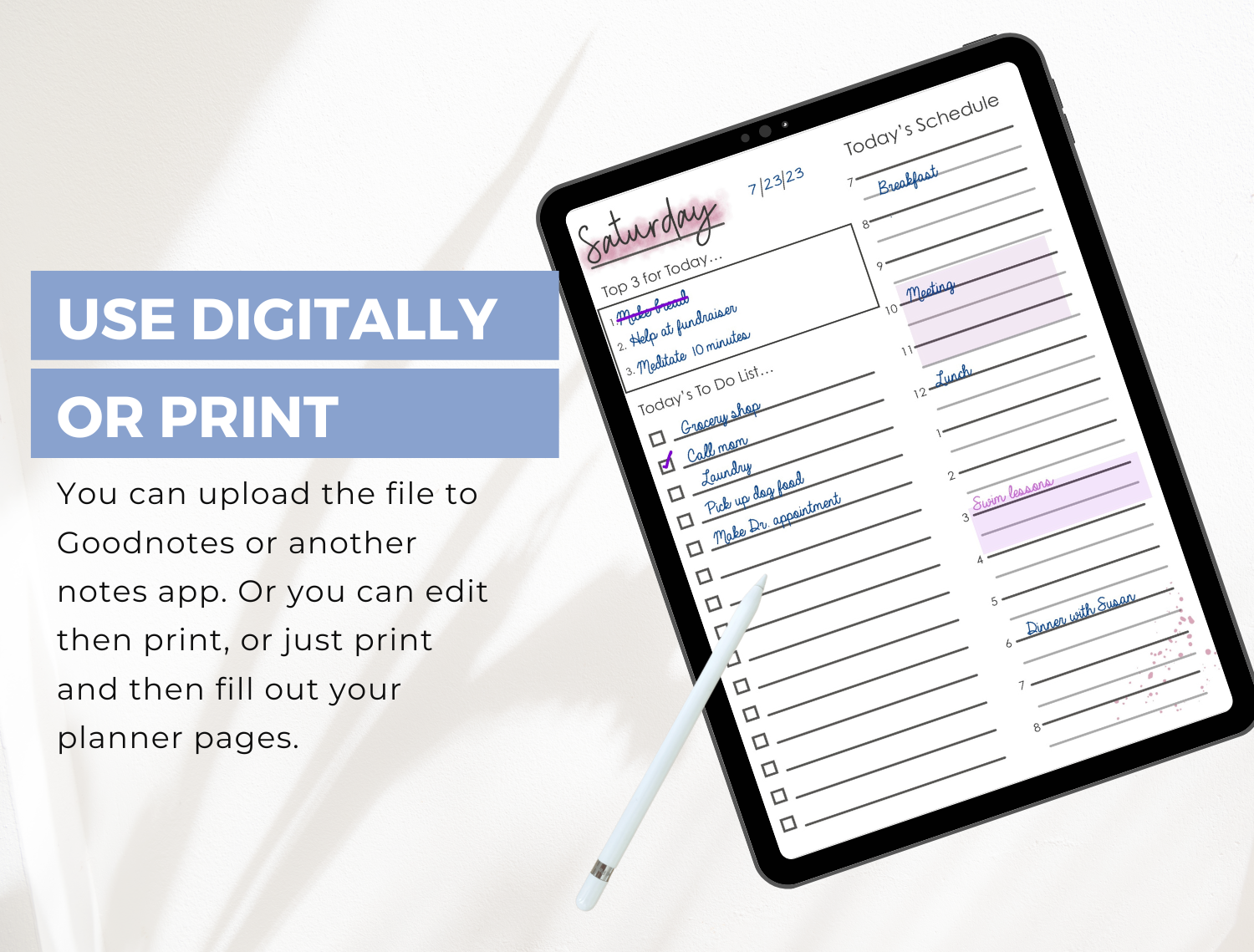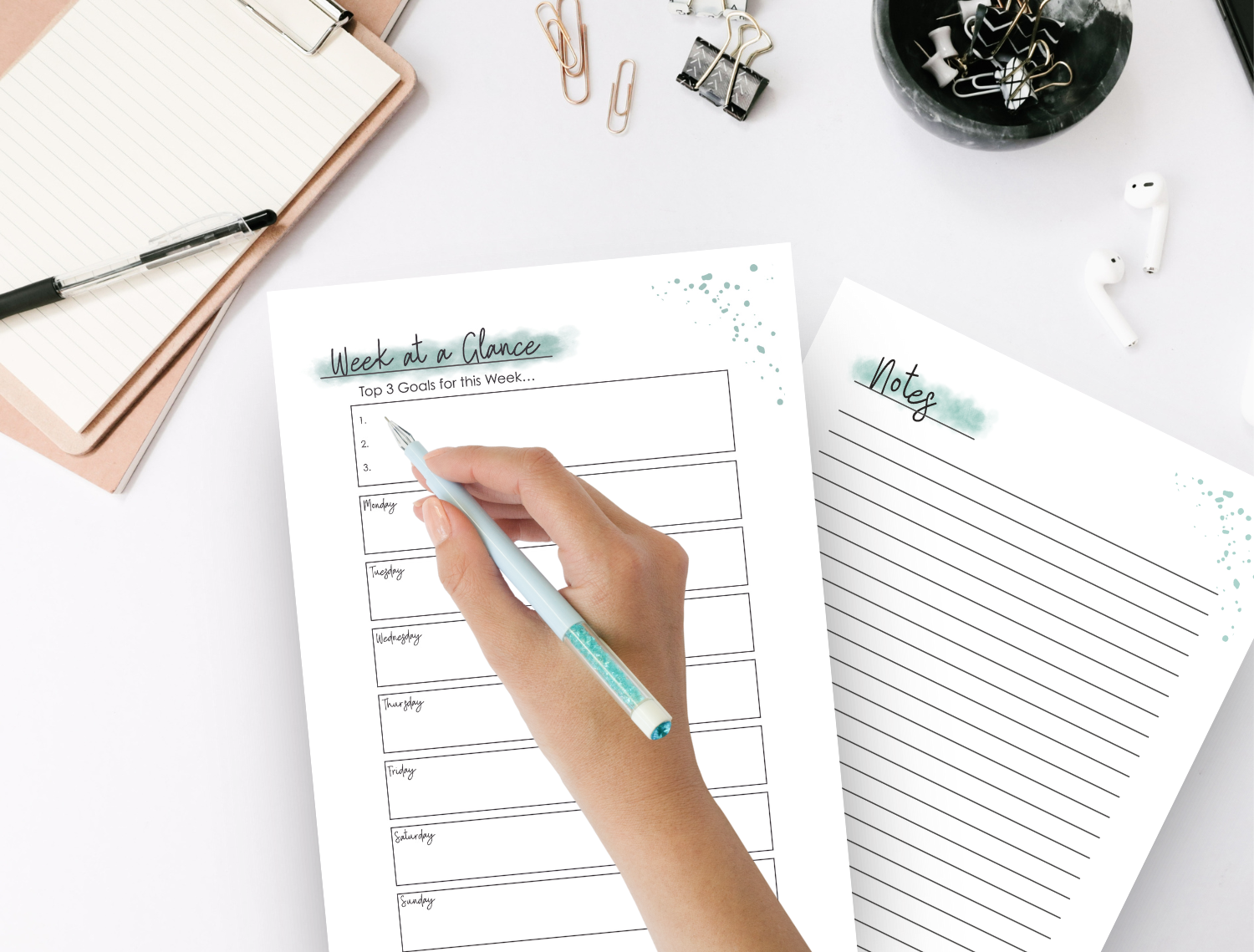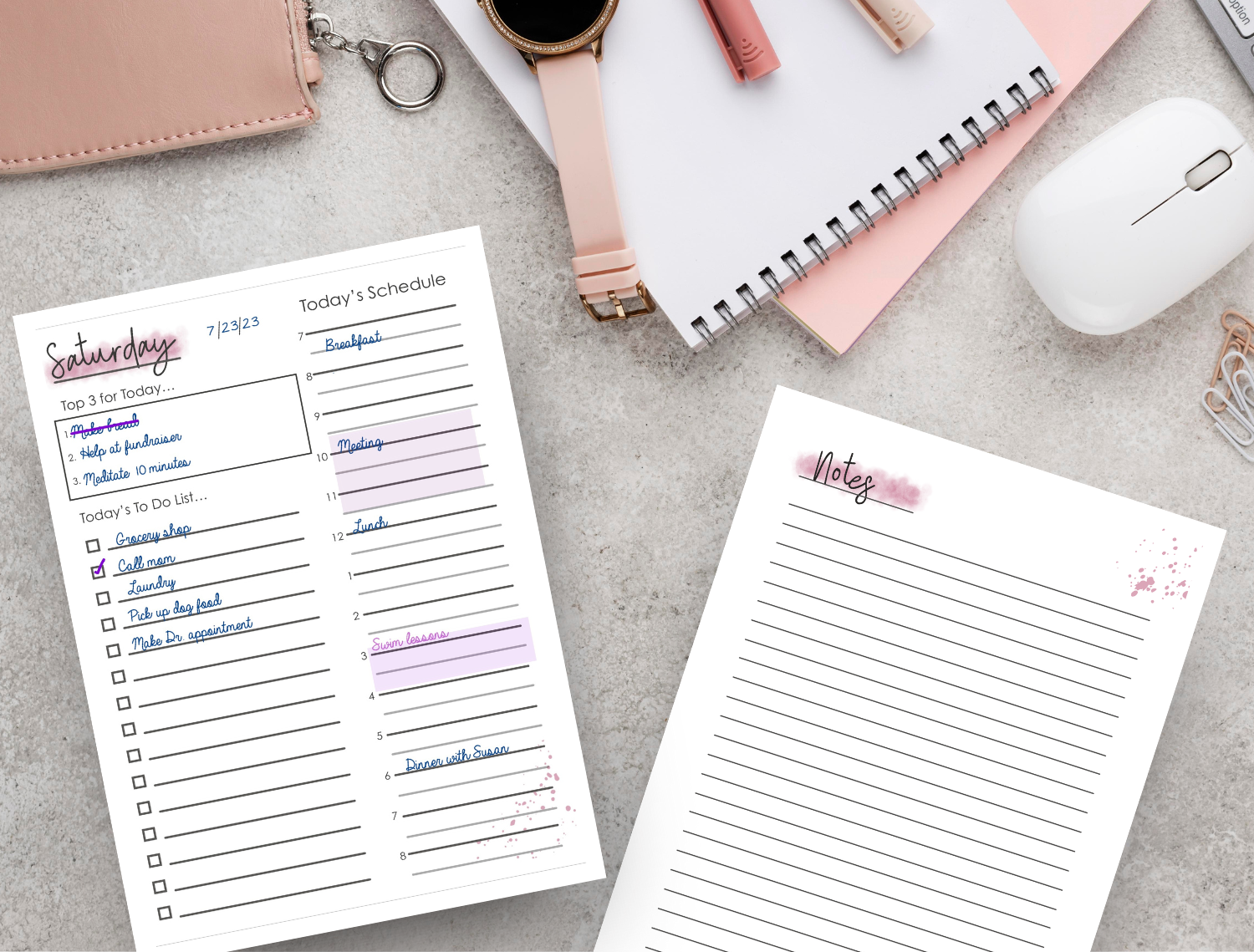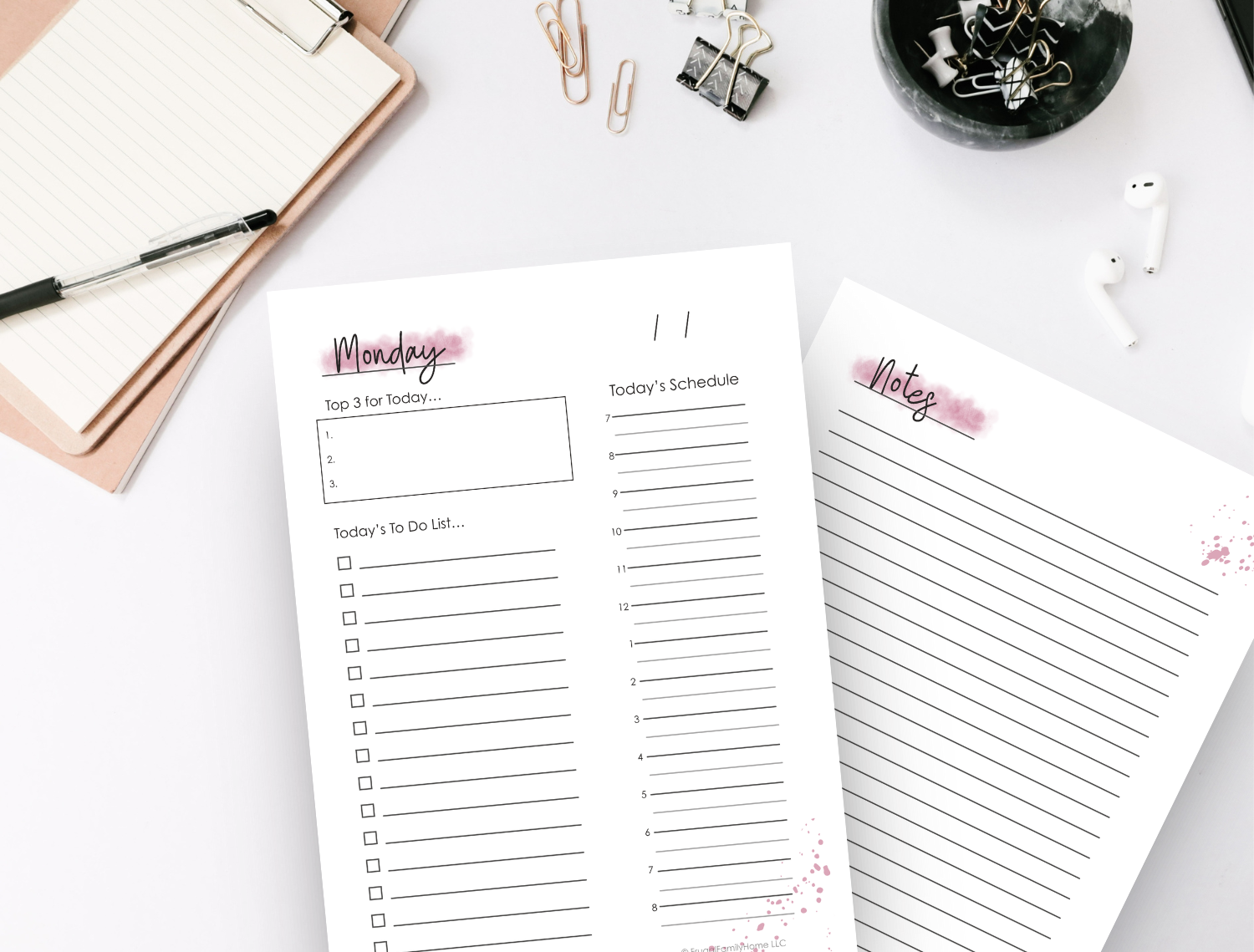 FAQ's
When Will I Get My Item?

Because this product is a digital product you'll receive it right after checkout.

There will be a download button right after checkout. You'll also receive an email with a download link also.
Downloading Tips

Computers and mobile devices vary greatly. And we are not able to offer you technical support. But we hope these download tips can help. 

Below are download instructions that I hope can help if you need help with your download.

Please note that most mobile devices such as phones and ipads, and tablets, do not allow for downloading through a link.  

So it's best to download to your computer and then use iCloud or Dropbox to transfer the item to your mobile device. 

Some products are sent using a compressed ZIP file and will need to be unzipped. 

 

After you download locate your file…

Locate Your File

Your file should download into your downloads folder. Look for it in your downloads folder. If it is not there you may have your computer set to place your downloads into another area of your computer in your files. Do a quick search in your files, by date or name of the product to locate it.

 

Tips for unzipping a file…

On a Computer or Laptop

After you download the zipped file to your computer, locate it. It will usually land in your downloads folder or where you have directed it to download to. 

After locating the file, right click and select the extract all option. If you are on a Mac, you might only have to double click the file to unzip it. 

This creates a new file on your computer which you can open. 

If you want to transfer the item to your mobile device you can add the opened file to iCloud or Dropbox and then they can be accessed on your mobile device. 

If you have problems with this process on one browser, try a different browser. App and other add ons can make certain browser react oddly. 

 On a Mobile Device

We recommend downloading the file to a computer and then transferring it to your mobile device but if you want to download a zipped file onto your mobile device, you may need a free app to unzip it. 

 Before downloading search in your app store for a free app to unzip files. This will allow you to unzip the folder to access it. 

 Another option that may work on some devices is to long hold on the file and then click open or extract. That may work for you too. 

 

All Files are in PDF Format...

 You will need a PDF reader to view the files and most computers and devices have Adobe Reader preinstalled on them. Making it easy to view. 

 But if your device doesn't have a pdf reader installed you will need one. Adobe Reader can be used an it's free. Get it here.